Help in a Home Emergency Cover now available as standard on Aviva HomeChoice policies


Dear Broker,

All of the team at Aviva hope you, your family and your colleagues are staying safe and well during this extraordinary time.
I'm writing to update you on our Home product and am delighted to announce that Help in a Home Emergency cover now comes as standard under our Aviva HomeChoice policy. Both your new and existing customers will get the added reassurance of this extra help when they need it most and it will be automatically included in their policy.
When will this change apply?
New business customers – All new business quotations entered on the system on or after the 01/04/2020 will automatically receive this cover as standard under the HomeChoice policy.
Renewing customers – All policies renewing on or after 01/08/2020 will also automatically receive this cover as standard. This is the earliest we can implement this change allowing for the renewal process and renewal regulations.
This cover will no longer be displayed as an Optional Extra. The cover will automatically be included as standard for both new and renewing customers on or after these dates, so you won't need to manually request it.
What does Help in a Home Emergency cover provide?
Home emergencies can be stressful. Whether it's a broken window, damaged door, burst pipe, blocked drain, oil leak, blackout, lost keys or storm damage, we'll help get it fixed as quickly as possible.
Your customers will now enjoy the extra benefit of:
24-hour access to a comprehensive emergency service, 365 days a year.

An emergency repair service to secure their home and prevent further loss or damage caused by storm or other emergency events.

Cover for the cost of a callout, labour and materials for an emergency repair of up to €250 per incident or €260 for broken glass in outside windows and doors which make their home insecure.

Overnight accommodation for up to four people (at a place of our choosing), with transportation provided from the insured's home.

Up to 7 days' furniture storage with transport to and from the storage facility.

Making urgent contact with a family member in Ireland or abroad in the event of an emergency.

Unlimited callouts each year.
The service is provided by MAPFRE ASSISTANCE Agency Ireland.
Please see the leaflet attached and full details of the cover, terms, conditions, limits and exclusions can be found in the HomeChoice policy booklet or by visiting Aviva Broker website avivabroker.ie
What if a customer was previously paying for Help in a Home Emergency as an optional cover?
Where an existing customer has already selected Help in a Home Emergency cover as an optional extra, and was paying a premium charge for same, the renewal invitation will automatically update to include the cover as standard. Customers renewing from 01/08/2020 will no longer be paying for this cover as an 'Optional Extra' as it is now factored into the policy as Standard Cover, so you won't need to manually request it.
How will the customer know that the cover has been applied?
This extra benefit will be included on their Policy Schedule:
HW108 - 'Help in a home emergency' cover
Section 4 - 'Help in a home emergency' cover has been applied to the policy. Refer to the policy booklet for full details of the cover provided.
No charge will appear in the premium breakdown, as this cover is now included as standard.
We hope that your customers will enjoy extra peace of mind with this additional cover.
If you would like any further information, please contact:
Thank you for your continued support.
Yours sincerely,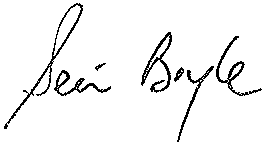 Seán Boyle
Head of General Insurance Sales & Distribution
Aviva Ireland.
Aviva Insurance Ireland Designated Activity Company, trading as Aviva, is regulated by the Central Bank of Ireland. A private company limited by shares.
Registered in Ireland No. 605769. Registered Office: One Park Place, Hatch Street, Dublin 2, Ireland, D02 E651.


The information transmitted is intended only for the person or entity to which it is addressed and may contain confidential and/or privileged material. Any review retransmission, dissemination or other use of, or taking of any action or reliance upon this information or entities other than the intended recipient is prohibited. If you received this in error, please contact the sender and delete the material from the computer.