Home Insurance – Removal of additional benefit– Best Doctors® Second Medical Opinion
Dear Broker


We are writing to you in relation to our HomeChoice product and the Best Doctors® Second Medical Opinion product benefit.
We wish to advise that with effect from the 1 March 2021, the Best Doctors® Second Medical Opinion will no longer be included as a benefit under the HomeChoice Product. Please note that the benefit will be removed for all Aviva Home policies from that date. Existing Home policies will therefore not maintain the benefit until their next policy renewal.
What this means for policyholders currently availing of Best Doctors
Your customers will be able to use the service as normal up to the 28 February 2021 and any submissions made prior to 28 February 2021 will remain valid and the Best Doctors® Second Medical Opinion service will be provided in full.
Updated Insurance Product Information Document (IPID) for Home Insurance
We are arranging to update the Home Insurance IPID and a supply of these will be available from 15 December 2020. You can place an order through the normal ordering process from our supplier Paragon, email Leonard Wilson leonard.p.wilson@paragon-cc.ie
The existing Home Insurance IPID can be used for new Home policies up to year end 31 December 2020, after which we would ask you to destroy any old stock.
The new Home Insurance IPID will also be available to download from the Aviva Broker website, www.avivabroker.ie
Our communication to home policyholders
As we are withdrawing this product benefit, we will be writing to all our home policyholders directly to advise them of its removal from their existing home insurance policy. We are enclosing a copy of our letter and if you have any questions we would be grateful if you can contact your Aviva Business Development Manager within the next 2 weeks after which we will proceed with the issue of this communication to home policyholders.
This change will not impact any other aspect of your customers home insurance policy terms and conditions.
Thank you for your continued support.
Your sincerely,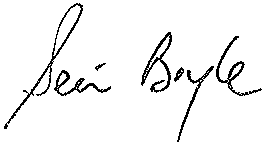 Sean Boyle
Head of General Insurance Sales & Distribution
Aviva Insurance Ireland DAC



avivabroker.ie | Forward
Aviva Insurance Ireland Designated Activity Company, trading as Aviva, is regulated by the Central Bank of Ireland.

#AVDLPCOMMS0606#