Our Commercial Risk Appetite brochure has been refreshed.


Dear Broker,
As we look ahead to support you and your clients as businesses adapt and reopen, we want to let you know that we are very much open for business. We maintain a strong appetite and desire to deliver business growth alongside you, our partner brokers.
We are delighted to share our refreshed Commercial Risk Appetite brochure with you. It is designed to give you a clear understanding of the areas we are focused on. Our Trading teams are established to work with you to identify new opportunities and to provide you with the best possible terms and a willingness to do business.
As one of Ireland's largest general insurance companies with a financial rating of AA- (S&P) and, part of the world's sixth largest insurance group, we are proud of our rock-solid credentials. Aviva has the requisite capacity, expertise, financial security and desire to work with you to deliver all your requirements for your customers. Our ambition will create true value for both you and your customers. Our capability will be fully aligned with you to provide compelling bespoke product solutions for your customers with competitive pricing.
At Aviva we are committed to creating and delivering value for you and your customers.
Thank you for your continued support.
Yours sincerely,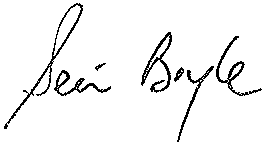 Seán Boyle
Head of General Insurance Sales & Distribution
Aviva Ireland.
Aviva Insurance Ireland Designated Activity Company, trading as Aviva, is regulated by the Central Bank of Ireland. A private company limited by shares.
Registered in Ireland No. 605769. Registered Office: One Park Place, Hatch Street, Dublin 2, Ireland, D02 E651.


The information transmitted is intended only for the person or entity to which it is addressed and may contain confidential and/or privileged material. Any review retransmission, dissemination or other use of, or taking of any action or reliance upon this information or entities other than the intended recipient is prohibited. If you received this in error, please contact the sender and delete the material from the computer.