Dear Broker,
Welcome to our July Broker Newsletter - keeping you updated on news at Aviva.
We are now in phase three of the Government's Covid-19 road map for reopening the country and we're delighted to see businesses and services getting back up and running, including our Aviva Driving School. We continue however to provide support to you and your customers with additional loss prevention documents and helpful guides as well as insightful CPD webinars discussing topics such as how we balance the Health of the Economy with the Health of the Nation.
We were also delighted to be able to celebrate Pride once again this year. The celebrations were impacted by the Covid-19 pandemic but we still managed to light up Aviva Stadium again in pride colours. We made a new video featuring Irish Women's Soccer Captain Katie Mc Cabe and her partner along with members of our Pride Committee telling us about their journeys. We are also working with BeLonG To, an important national charity organisation supporting LGBTI+ young people in Ireland and providing them with financial and other supports. This made it a very memorable Pride celebration in challenging circumstances.
Finally, you will have heard by now that Aviva plc has announced the appointment of Amanda Blanc as Group Chief Executive Office. Maurice Tulloch has stepped down from the role for family health reasons and retired from his position on the Board. We wish him and his family the very best for the future. For full information on this and other news at Aviva, see below.
Thank you for your continued support.


Yours sincerely,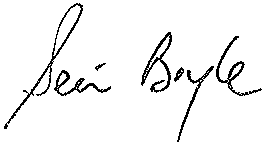 Seán Boyle
Head of General Insurance Sales & Distribution
Aviva plc has announced the appointment of Amanda Blanc as Chief Executive Officer with immediate effect.

Read More
Our driving instructors may begin to provide lessons to pupils on a phased basis and safety will be our key priority.

Read More
Just last year Aviva participated in Pride celebrations across the country. This year we celebrated Pride a little differently.

Read More
As we move into a new phase we would like to remind you to visit our Covid-19 hub for helpful documents for you and your customers.

Read More
Aviva held an insightful webinar led by Professor Luke O'Neill, global Immunologist and Jim Power, one of Ireland's leading Economists.

Listen back
For more information visit avivabroker.ie or speak to your Business Development Manager

You're safe in the hands of Aviva

Aviva Insurance Ireland Designated Activity Company, trading as Aviva, is regulated by the Central Bank of Ireland. A private company limited by shares.
Registered in Ireland No. 605769. Registered Office: One Park Place, Hatch Street, Dublin 2, Ireland, D02 E651.


The information transmitted is intended only for the person or entity to which it is addressed and may contain confidential and/or privileged material. Any review retransmission, dissemination or other use of, or taking of any action or reliance upon this information or entities other than the intended recipient is prohibited. If you received this in error, please contact the sender and delete the material from the computer.