Dear Broker,
Welcome to our March Broker Newsletter - a new communication that I will use to keep you updated on news at Aviva.

With Ireland now experiencing more frequent storms it will reassure you to know that in 2019 Aviva paid out on over 96% of our property claims.
We continue to be there for our customers when it matters most and the Aviva Property Services team are on hand to repair and restore damaged properties in the event of a claim with a fantastic 95% customer satisfaction.
We also want to help our customers where possible to prepare for major weather events - our Risk Management guide to protecting buildings during windstorm contains lots of helpful information for businesses and you may wish to use some of the content in your own customer communications.

I'd also like to take this opportunity to assure you that Aviva has been monitoring the COVID-19 situation closely. Our primary responsibility is the health and safety of our customers, employees, and partners to ensure we can continue to provide critical services during this global event. Aviva's Chief Economist Jim Power writes in his blog this week about the challenges for the global economy and financial markets posed by COVID-19.
Thank you for your continued support.

Yours sincerely,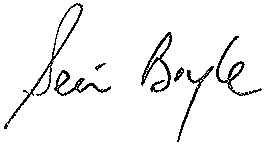 Seán Boyle
Head of General Insurance Sales & Distribution
Aviva Property Services

Helping your customers return to a safe, secure and fully restored property.
Personal Injury Claims Dismissed

The Irish Independent this week reported that five personal injury claims were dismissed following the work of our investigations unit. At Aviva we have a zero tolerance approach to fraud and we are committed to fighting any cases we believe to be fraudulent.
Jim Power on COVID-19

COVID-19 poses a significant challenge to the global economy and financial markets. Read Jim Power's latest blog for more.
Risk Management - Storm

Find out how your customers can protect their property from windstorm damage.
For more information visit avivabroker.ie or speak to your Business Development Manager

You're safe in the hands of Aviva

Aviva Insurance Ireland Designated Activity Company, trading as Aviva, is regulated by the Central Bank of Ireland. A private company limited by shares.
Registered in Ireland No. 605769. Registered Office: One Park Place, Hatch Street, Dublin 2, Ireland, D02 E651.


The information transmitted is intended only for the person or entity to which it is addressed and may contain confidential and/or privileged material. Any review retransmission, dissemination or other use of, or taking of any action or reliance upon this information or entities other than the intended recipient is prohibited. If you received this in error, please contact the sender and delete the material from the computer.