Dear Broker,
As 2020 comes to a close, a year which has brought many challenges, we want to check in with you to understand how, in your view, Aviva has performed on General Insurance during the year.
We believe that it is important to conduct research with you, whether through Brokers Ireland or independently. This allows us to understand in what areas we are performing well and where we need to continue to work harder to better meet your needs.
This year we have commissioned Red C Research to conduct a short telephone survey on our behalf. This survey is made up of just four questions and should take no more than 7-8 minutes of your time. Red C will be starting this research this week and we hope to complete it before Christmas. We understand that this is a busy time of year for you, but we would really appreciate if you could take the time to participate in this year's survey. Your feedback is really important to us.
Many thanks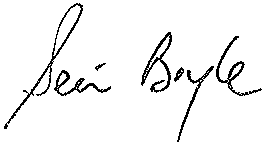 Seán Boyle
Head of General Insurance Sales & Distribution
Aviva Insurance Ireland DAC.
Aviva Insurance Ireland Designated Activity Company, trading as Aviva, is regulated by the Central Bank of Ireland. A private company limited by shares.
Registered in Ireland No. 605769. Registered Office: One Park Place, Hatch Street, Dublin 2, Ireland, D02 E651.


The information transmitted is intended only for the person or entity to which it is addressed and may contain confidential and/or privileged material. Any review retransmission, dissemination or other use of, or taking of any action or reliance upon this information or entities other than the intended recipient is prohibited. If you received this in error, please contact the sender and delete the material from the computer.