Dear Broker,
In light of the Government's recent announcements and measures on Covid-19 and ongoing guidance from the Department of Health, Aviva Insurance Ireland is putting precautions in place to reduce the risk to our people, to Brokers and your staff and to our shared customers. In doing so, we have taken into account your feedback in relation to face to face engagement between us. We feel in the current circumstances it is important that we take urgent action.
Effective immediately, we are suspending face to face meetings between our Broker facing staff and Brokers plus other external parties until further notice. All members of our Broker facing staff, including Business Development, Claims, Engineers, and Underwriting, have remote mobile functionality and will continue to support you and your staff during this period, either by phone, email or via Skype meetings as required.
We trust you will appreciate that the need for such action is in the best interests of all concerned. In light of this and ongoing developments related to Covid-19, we will keep you updated regularly on any developments related to our products, cover and services. This includes some changes in our processes as a result of a significant number of our staff working remotely.
Business continuity remains an important focus for us and we are taking measures to ensure the operational resilience of our business so that we can continue to provide a great service to Brokers and our customers. Be assured that we have robust business continuity plans in place that we continue to invoke as required and that we will keep you informed accordingly.
Should you have queries regarding this communication or on Covid-19 please do contact us.

Regards,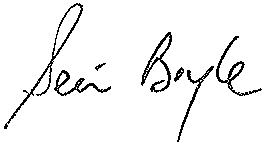 Seán Boyle
Head of General Insurance Sales & Distribution
Aviva Property Services
Helping your customers return to a safe, secure and fully restored property.
Risk Management - Flood
Find out how your customers can protect their home or business from the imminent threat of flood.
Risk Management - Storm
Find out how your customers can protect their home or business from the imminent threat of storm.
Aviva Sensory Hub
Our latest initiative to make Aviva Stadium a more inclusive space.
Aviva Insurance Ireland Designated Activity Company, trading as Aviva, is regulated by the Central Bank of Ireland. A private company limited by shares.
Registered in Ireland No. 605769. Registered Office: One Park Place, Hatch Street, Dublin 2, Ireland, D02 E651.


The information transmitted is intended only for the person or entity to which it is addressed and may contain confidential and/or privileged material. Any review retransmission, dissemination or other use of, or taking of any action or reliance upon this information or entities other than the intended recipient is prohibited. If you received this in error, please contact the sender and delete the material from the computer.