Dear Broker,
As we reflect on 2020, a year that has brought unprecedented challenges, we have a lot to be proud of. As a nation we have come together to protect the most vulnerable in our society.
As an Industry we have adapted quickly to new ways of working since the outbreak of Covid-19 to ensure that we continue to meet your needs and those of your customers.
At Aviva we are proud of our staff who continue to be there for you when it matters most and who have helped us deliver on some important initiatives for the General Insurance business in 2020.
Some of our highlights from 2020 include
Our Covid-19 support and Avivabroker.ie hub

Refreshed Commercial Risk Appetite

Help in a Home Emergency added as standard to the Homechoice policy

Sponsorship of Brokers Ireland virtual Meet the Market Day

Our Aviva Broker Community Fund for local charities and community organisations

Entry into the Financial Lines market from January 2021
Click here for more details on these highlights.
As 2020 comes to a close, I would like to thank you for all your support throughout the year. Wishing you and yours a very happy Christmas and every good wish for the year ahead.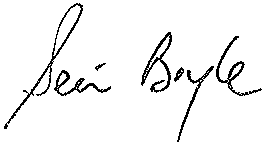 Seán Boyle
Head of General Insurance Sales & Distribution
For more information visit avivabroker.ie or speak to your Business Development Manager

You're safe in the hands of Aviva

Aviva Insurance Ireland Designated Activity Company, trading as Aviva, is regulated by the Central Bank of Ireland. A private company limited by shares.
Registered in Ireland No. 605769. Registered Office: One Park Place, Hatch Street, Dublin 2, Ireland, D02 E651.


The information transmitted is intended only for the person or entity to which it is addressed and may contain confidential and/or privileged material. Any review retransmission, dissemination or other use of, or taking of any action or reliance upon this information or entities other than the intended recipient is prohibited. If you received this in error, please contact the sender and delete the material from the computer.